Clamp-on A.C. Current Monitoring Sensor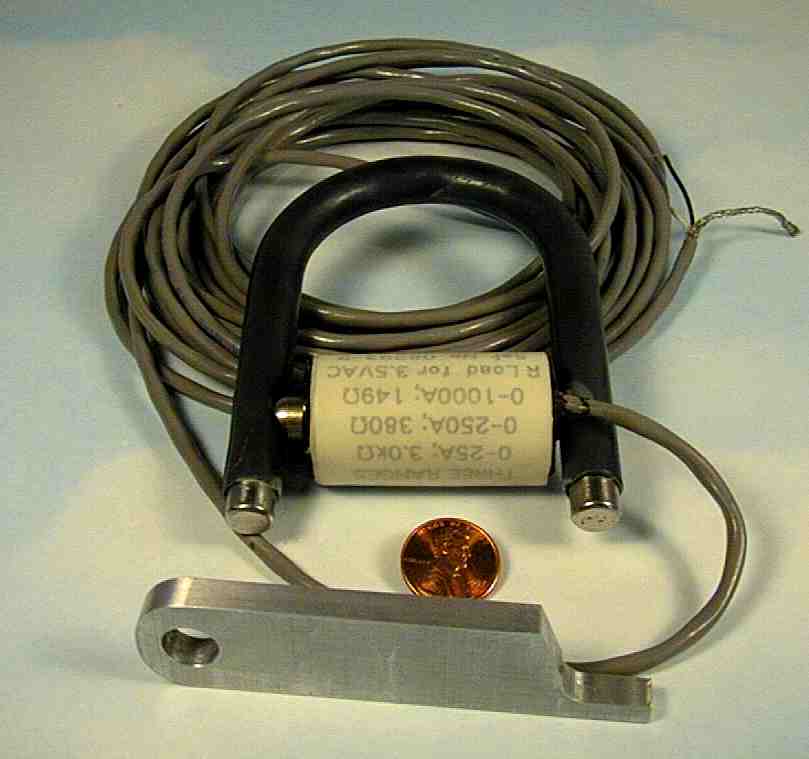 The U-Bar Clamp-on Current Monitoring sensor is a harmonic or transient response - 60 kHz unit with multiple applications. It is designed and built to install on wires or cables up to 2.15 inches in diameter. The U-Bar is available in two models; one is ranged from 0 to 500 amps and the other is ranged from 0 to 1000 amps. The output on either model is 3.5 Vrms at full scale. Both models can have the full scale range changed simply by changing the load resistors (provided) at the instrumentation end of the cable. So if used with a microprocessor or programmable controller, the range may be changed as needed to facilitate the highest accuracy.
Applications can include monitoring ground wires of substantial size to observe circulating harmonic currents, as well as analysis of transient phenomena up to 1000 amperes. This clamp-on sensor will also allow monitoring of motor drive systems or variable speed drive systems to determine interference patterns on other equipment. Also polyphase lines may be easily balanced for optimum efficiency.
Engineers at SRT are available to discuss any questions you might have on any of our products. Often we are asked to customize or prepare special calibrations on our sensors to suit customer needs. Please contact us at (800) 447-6805 and ask for Dayle Smith or Doug McNutt, or FAX us at (719) 634-2601, or send E-mail to sales@srt-inc.com.


[ Selection Guide ] [ Specs ] [ Price Guidance ] [ Drawings & Photos ] [ Home Page ]

Product Information Listing:
[AC Voltage Output] [DC Voltage Output] [Current Actuated Switch]
[Voltage Actuated Switch] [Smart Power Measuring Sensor] [Battery Voltage Monitor]